Calling all Lady Bosses and Women in Charge! Along with some fantastic fellow women entrepreneurs, I am excited to be taking part in Lady Bosses Making Money. If you are – or have always wanted to be – an entrepreneur, I know this valuable event will have a massive impact on your business and help fill up your emotional and financial freedom tank that's been depleted.
This free online training series highlights top women entrepreneurs who are authentically earning an income and sharing their strategies with you on how to create cash flow so you can grow your DREAM business. ​​​​​​​It's all about making an impact, authentically earning an income, and sharing concrete facts on how to grow your business with a wide range of start-now tactics that can benefit everyone.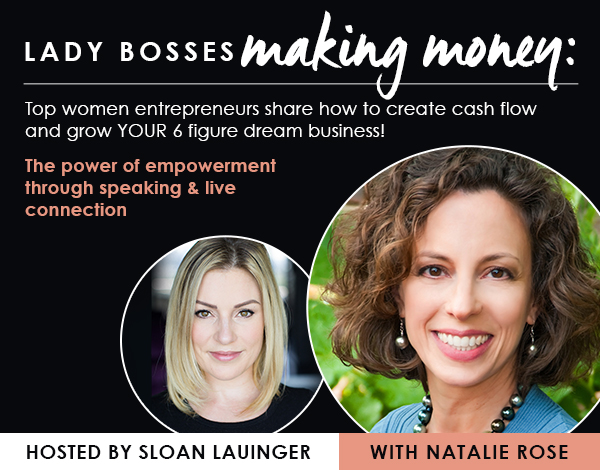 During this series, you'll be empowered, motivated and moved by the success stories and challenges these authentically earning, top women entrepreneurs vulnerably share, all of which have led to results, valuable lessons and wins in their businesses & lives.
The common thread with each of these women entrepreneurs who are authentically earning an income is that they took a leap of faith and learned when to ask for help. Today over 20 women entrepreneurs
and I are inviting you to join us for the ultimate "boss lady date" as we provide that help and show you the way.
This free video series is stacked with expert advice, tips and actionable strategies that apply to a wide range of industries on what to do (and what not to do) while growing YOUR six-figure dream business so you can authentically earn an
income.
In this free virtual interview series, you will learn how to:
Use the power of
vulnerability to leverage your business
Use Facebook Ads, YouTube, and Instagram to convert followers into clients
Be a classy networker and create a people-centered business
Brand like a boss, communicate your value and create lasting community
Unlock your sacred wealth code & live with purpose
Make your email list pop with online challenges
And so much more . . .!
They say you're only as good as those you surround yourself with and the only way to get stronger is to keep going and learn. Do you want to be one of these generous, successful and authentic earners? If yes (why wouldn't you?), we'll be revealing what it's really like to refine all aspects of your business to get amazing results. Heck, you can watch these interviews in the bath tub, listen while you're driving, or plug 'em in while cooking dinner.
Authenticity is magic. Relationships and experiences are everything.
Let's do this!
Love & Lightness,
Natalie